I'm down to my last clean clothes. And this is my last clean shirt. Otherwise I wouldn't be caught dead walking around in public in this atrocity (aside from being two sizes too small, I prefer bland and colorless clothes that don't call attention to me).
The "Ted Head" in question (get it??) is former Cal football coach Jeff Tedford. And I have a weird personal connection with the guy.
For awhile Jeff Tedford was the most highly-paid faculty member at UC Berkeley with an annual salary in the millions, even more than the Chancellor was making (all that TV revenue — big-time college football coaches like Jeff Tedford are like the stars of a hit TV show).
And for awhile Tedford was riding high. He had Aaron Rodgers at quarterback and Marshawn Lynch at running back — two of the greatest football players of our times. And then a couple years later Cal was ranked 2nd in the nation and undefeated at the time. And they would rise to #1, and with a good shot at a national title,  if they could win that game. But their starting quarterback got hurt, so  Tedford had to put in this freshman back-up quarterback in his first start (what a way to start out your career! — a national title on the line). And the frosh QB was playing great. And it looked like he was going to lead them Cal Golden Bears to victory. Marched the team all the way down the field on the last drive of the game. And they were on the 12 yard line with like 14 seconds to go. And all they needed to do was kick a field goal (which from that distance was as easy as an extra point) to send the game into overtime. But on the last play of the game, instead of throwing the ball out of bounds to stop the clock to set up the game-tying field goal, the frosh QB decided to try and scramble his way into the end zone for a touchdown. Instead he ended up using up the last seconds on the clock and got tackled and didn't make it to the end zone.
Game over. Loser.
Cal never recovered from that defeat. And neither did Coach Tedford. Ole Tedhead decided what they needed was to completely renovate the football stadium. And Cal spent millions adding luxury suites for the rich alumni. As well as millions more to build a state-of-the-art training facility — to entice the blue-chip prospects.
But then these Berkeley radical political activists decided to stage this massive protest to prevent the trees that were in front of the stadium from being chopped down ("SAVE THE TREES!!" — Berkeley is always a sucker for that shit). And they organized this 24-hour-a-day "tree-sit" that went on for several years and prevented the renovation of the stadium. So ole Jeff got locked into this years-long legal battle with the activists, as well as on-going physical confrontation between the police and the activists. A major headache for Jeff.
But my personal connection with Tedford. While they were renovating the stadium Tedford had to vacate his office that he had in there. And set up his office in this little trailer in this deserted parking lot on the other side of the football stadium. And every night for two years when I headed up to my homeless campsite in the Berkeley hills, I would pass Coach Tedford's trailer.
And he was almost always in it. It could be 2 in the morning and I could count on Tedford being in there and the light was on. Studying film or whatever it is football coaches do. Football coaches are notorious work-a-holics, working 16 hours a day and sleeping in their offices. There are endless details football coaches need to take care of. And if they don't put in the hours, you can bet the coach on the other sideline IS. And when they meet, that Coach will win. And you'll be out of a job. So it's a grueling and highly-pressurized job. College football coach.
And as I passed Tedford's trailer every night — toiling away, burning the midnight oil — I developed a weird sympathy for the guy. In spite of his millions, he led an even more spartan lifestyle than me. Sleeping every night in this cramped little trailer on a cot. At least I had beautiful feral cats that went along with my campsite set-up
And I think the pressure finally got to him. Not just the pressure of being a big-time football coach (which is more than enough to deal with). But dealing with all the elaborate details of the multi-million-dollar renovation project. As well as battling with all these crazy Berkeley political activists. So he had a LOT on his plate.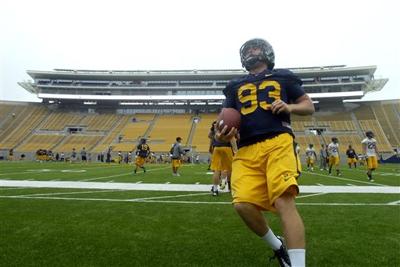 And then his football team started losing. Even worse it came out that something like 80% of his football players never even graduated. The Athletic Directors will put up with that shit if you're winning. But if you're losing, you're toast. So he got fired. And never even got to enjoy the spiffy new stadium and training facility that he had worked so hard to create.
So then he managed to get a job as an assistant coach for an NFL team. But after a couple of games he had a heart attack. So that put him out of commission for awhile
But I'll always remember passing by him every night at 2 in the morning for those two years. We were the only two people around in that neck of the woods at that time of night. So I almost felt like we were roommates. Me and Jeff.